As Virus Spreads, Maryland, Massachusetts Order Nonessential Businesses To Close
On Monday, Maryland Gov. Larry Hogan ordered all nonessential businesses closed by 5 p.m. ET to help stop the spread of the coronavirus. Massachusetts issued a similar order to go into effect at noon ET on Tuesday.Steve Ruark/AP
Governors in Maryland and Massachusetts issued executive orders on Monday ordering nonessential businesses in their states closed as the race to halt the spread of the deadly coronavirus intensifies.
Meanwhile Florida Gov. Ron DeSantis announced a drive-through testing facility will open in The Villages, a sprawling mega-retirement community in the central part of the state.
In Maryland, Gov. Larry Hogan issued a new executive order effective at 5 p.m. ET., which he referred to as "immediate, additional mitigation and social distancing actions."
The executive order closes all nonessential businesses, organizations, establishments and facilities in the state.
"Let me be clear, we are not issuing or ordering a shelter in place directive or forcing people to stay home," Hogan said. He reiterated that Marylanders should follow previous state-wide directives, including the new state law prohibiting crowds of more than 10 people.
Hogan's announcement comes as the state has 288 confirmed cases of COVID-19 in all but three of Maryland's 24 counties. The governor also announced its latest coronavirus-related death, a woman in her 40s.
Gov. Charlie Baker of Massachusetts issued a similar directive ordering all non-essential businesses to "cease in person operation."

Today I issued an emergency order requiring all businesses and organizations that do not provide #COVID19 essential services to close their physical workplaces and facilities to workers, customers and the public.

FULL DETAILS: https://bit.ly/2QziBnN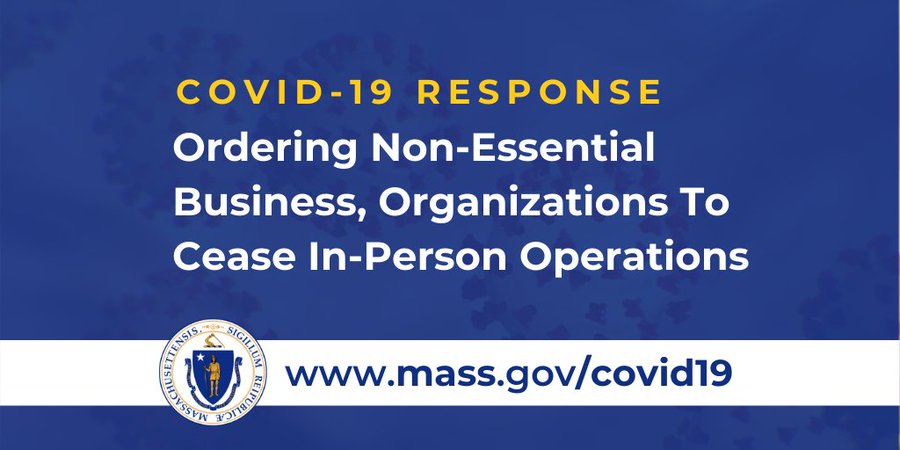 1,5033:27 PM – Mar 23, 2020Twitter Ads info and privacy1,558 people are talking about this
The order is set to go into effect Tuesday at noon and go through Tues., April 7 at noon. Businesses that provide essential services, such as restaurants and pharmacies, are excluded. Liquor stores and medical marijuana shops can also remain open.
Baker's order advises residents to stay at home and to forgo unnecessary travel during the two-week period. The Baker administration adds it, "does not believe Massachusetts residents can be confined to their homes and does not support home confinement for public health reasons."
DeSantis, speaking from The Villages in Sumter County, Fla., announced a testing site that is "tailormade" for this 55-years-old and older community because both cars and golf carts will be allowed through.
The operation, conducted in partnership with the University of Florida, hopes to test up to 400 people a day and plans to reach 2,000 people by the end of the week. The governor added that people who didn't reside in The Villages could be tested as well.
According to NPR's Florida Correspondent Greg Allen, retirees there are practicing social distancing:

2000 people expected to be tested this week. People can drive through in cars or in golf carts, the preferred mode for many retirees in the Villages. DeSantis note golf courses there are still open, but says retirees are practicing social distancing–each in their own golf cart. https://twitter.com/gallennpr/status/1242112238208630786 …Greg Allen✔@gallennprGovernor DeSantis announces opening of a drive-through testing facility in the central Florida retirement community, The Villages. It will be operated by UF Shands doctors and will test asymptomatic as well as symptomatic patients as part of a research project.14:36 PM – Mar 23, 2020Twitter Ads info and privacySee Greg Allen's other Tweets
GET INVOLVED
Few Days To Sallah 2021: See The Prices Of Rams At A Local Market In Nigeria (Pics)
I visited a local Ram market at Ile-Ife town in Osun State, South West Nigeria today on the request of a brother to help get ram for his aged mother and I sampled the market by asking for prices of most rams from the buyers.
Average cost of fair rams in size cost between N65,000 to N150,000. Most sellers are reluctant to give prices of most rams, you only point to the one you want and they give you price, especially the Northern sellers (Mallam)
To get a good ram, with good size and meat, one needs at least N100,000.
First & Second Picture are N110,000
The third picture are N65,000.
See the video to see their real sizes and prices of many others.
Nigerians Will Now Pay N6.98k For Every USSD Transaction Carried Out
A few days ago, telecom operators withdrew the USSD shortcode service bank from their platform which means customers would have huge challenges in carrying out financial transactions via the USSD platforms.
As of today, Nigerians will now pay N6.98k for every USSD transaction carried out from their mobile phone. The price replaced the former per session billing structure for USSD transactions.
According to CBN "Mobile Network Operators (MNOs) and Deposit Money Banks (DMBs) have had protracted disagreements concerning the appropriate USSD pricing model for financial transactions.
"This resulted in the accumulation of outstanding fees for USSD services rendered leading to potential service withdrawal by the MNOs." "We are pleased to announce that after comprehensive deliberations on the key issues, a resolution framework acceptable to all parties was agreed thus:
"Effective March 16, 2021, USSD services for financial transactions conducted at Deposit Money Banks (DMBs) and all CBN – licensed institutions will be charged at a flat fee of N6.98 per transaction. "This replaces the current per session billing structure ensuring a much cheaper average cost for customers to enhance financial inclusion.
With the latest announcement by the CBN, it appears that the banks and telcos have resolved to put the brunt of the cost on the users contrary to the NCC initial directive.
This means that Nigerians will pay even more than the N4 they were initially complaining about. Starting from today, users of USS D will have to pay N6.98 per transaction.
However, it is still unclear who will collect the charges, banks, or telecommunications.
Crypto Ban: Northern Senators Support CBN, Southern Senators Oppose
The recent ban on cryptocurrency transactions via Nigerian bank accounts has divided opinions among Nigerian senators.
The Central Bank had directed deposit money banks and other financial institutions to deactivate all customers' accounts used for transacting all forms of virtual currencies.
The CBN hinged its decision on claims that fraudulent transactions were being carried out via cryptocurrency dealings, thereby weakening the Naira. It also alleged that the exchange could be used to funnel illicit funding for terrorism and other threats to national security.
Debating the development on Thursday at plenary, Senator Tokunbo Abiru, a former bank chief executive from Lagos, says he does not see the ban as the solution to the highlighted threats but suggested a public hearing be held with stakeholders.

"The last five years, we have had people changing crypto-currencies to over 500 million dollars. It is good to ban because of the challenges it has presented; in reality, banning it doesn't take it away," Mr. Abiru said.
"Even our Security Exchange Commission (SEC) also recognised crypto-currency as a financial asset they need to regulate. What we should do is to invite the major stakeholders to a public hearing."
Adding his voice, Senator Solomon Adeola (Lagos West) opined that rather than the outright ban on crypto-currency by the banks regulator, regulation of the market would be a better option.
In his words: "I am strongly against the outright ban of this medium of exchange by the Central Bank of Nigeria(CBN). What the CBN should be telling Nigerians are the regulations put in place to regulate the activities of the operators."
"All over the world, these cryptocurrencies are regulated. The operators of this so-called currency are everywhere. I would indulge this senate to allow the regulators also to be invited so that they can also tell the committees their own position concerning the operation of cryptocurrency in Nigeria," Mr. Adeola concluded.
Senator Biodun Olujimi, apparently against the ban, noted that the youth have gained so much from the business of bitcoin, hence, advised the CBN and the government to iron out ways for cryptocurrency to work for the country while also taking step to prevent fraudulent people from gaining access.
Ms. Olujimi said, "We didn't create cryptocurrency and so we cannot kill it and cannot refuse to ensure it works for us. These children are doing great business with it and they are getting results and Nigeria cannot immune itself from this sort of business."

"What we can do is to ensure bad people must not use it. This motion is most important to us. The time has come for us to harmonise all the issues concerning cryptocurrency," the senator added.
However, in a swift opposition, Senator Sani Musa (Niger) believes the directive is necessary due to the clandestine nature of the medium of transaction which makes it almost impossible to regulate while seeing it as a threat to Nigeria's weak economy and the fragile Naira.

"Cryptocurrency has become a worldwide transaction of which you cannot even identify who owns what. The technology is so strong that I don't see the kind of regulation that we can do. Bitcoin has made our currency almost useless or valueless," Mr. Sani lamented.
In addition, he said: "If we have an economy that is very weak, and cannot regulate cryptocurrency in Nigeria, then I don't know how our economy would be in the next seven years."
The senate then mandated its committees on banking, insurance and other financial institutions, ICT and cybercrime, and capital market to invite the CBN governor for briefing on the opportunities and threats of the cryptocurrency on the nation's economy and security and to report back findings within two weeks.