Why We Can't Sell Petrol At 125/litre – Marketers
Private fuel marketers have yet to reduce the pump price of Premium Motor Spirit ( petrol ) , while retail stations belonging to the Nigerian National Petroleum Corporation have started selling at N 125 per litre .
The PUNCH correspondent, who visited several filling stations including Oando, Mobil and Capital Oil and Gas on the Lagos – Ibadan Expressway as well as Total at Ikosi -Ketu , on Thursday morning , observed that the private marketers were selling at N 145 per litre of petrol.
" What we are asking the government is that : who is going to pay us between the old price and the new price on our old stock? And without them verifying our old stock and telling us what they will pay us and when they will pay us, we will not load, " a top official of one of the fuel marketers' associations told our correspondent on condition of anonymity.
He said marketers would continue to sell the product at the old rate pending when the issues would be resolved.
" Marketers are holding their strategy session . We will have a common front . The GMD ( of NNPC ) has invited us for a stakeholders ' meeting , which should have been done before the announcement of the new price . By the end of today, we will have a clearer picture of how they are going to involve us," he added.
The Federal Government had noted on Wednesday that the drop in crude oil prices had lowered the expected open market price of imported petrol below the official pump price of N 145 per litre .
" Therefore, Mr President has approved that Nigerians should benefit from the reduction in the price of PMS which is a direct effect of the crash in global crude oil prices ," the Minister of State for Petroleum Resources , Chief Timipre Sylva, said in a statement .
He said the Petroleum Products Pricing Regulatory Agency would subsequently issue a monthly guide to the NNPC and marketers on the appropriate pricing regime .
The NNPC , on Wednesday , directed all its retail station to change the retail pump price to N 125 per litre from N 145.
The Group Managing Director , NNPC , Mallam Mele Kyari , said the corporation had reviewed its ex -coastal , ex- depot and NNPC retail pump prices in compliance with the directives of the Minister of State for Petroleum Resources , Chief Timipre Sylva, on the pricing of PMS.
He said , " Effective March 19 , 2020 , NNPC ex -coastal price for PMS has been reviewed downwards from N 117. 6 /litre to N 99 .44 / litre while the ex -depot price is reduced from N 133 .28 / litre to N 113. 28 / litre.
" These reductions will , therefore , translate to N 125 / litre retail pump price . Despite the obvious cost implication of this immediate adjustment to the corporation , NNPC is delighted to effect this massive reduction of N 20 / litre for the benefit of all Nigerians ."
Nigerian Mutual Funds Hit N1.26 Trillion In 5 Months
Total net asset of collective investment schemes and funds in Nigeria has risen to N1.257 trillion in the first five months of the year.There is no doubt that COVID-19 has affected various parts of the Nigerian economy and indeed, the world economy. One industry in Nigeria that has remained resilient in spite of it all, is the mutual fund industry.Data released by the Securities and Exchange Commission (SEC) as at May 29, 2019 showed that net asset value of mutual funds rose by N251 billion or 24.95 per cent from N1.006 trillion on December 29, 2019 to N1.257 trillion to close the first five months of the year, on May 29, 2019.The analysis revealed that in spite of the decline of 5.864 per cent witnessed in the Nigerian equities market during the period under review, the Nigerian mutual fund managers witnessed a growth of 24.95 per cent.Looking at how the funds flow into the sub-sector showed that Money Market Funds, Bond Market and Fixed Income Funds were the most active.Money Market Funds up by N93.613 billion, Bond Funds rose by N81.156 billion, Fixed Income Funds appreciated by N76.979 billion, Equities Based Funds up by N331 million, while Ethical Funds increased by N121 million in five months.On the other side, Real Estate Funds and Mixed Funds depreciated by N1.087 billion, and N121 million, respectively.Mutual fund is a pool of funds brought together by a professional fund manager from several investors to invest in selected underlying securities. The underlying securities can be one or a combination of the following: stocks, fixed income securities, real estate and commodities. A mutual fund portfolio is structured and maintained to match different investment objectives. The type of mutual fund an individual invests in depends on their financial objectives and appetite for risk.Meanwhile, in 2019, the Nigerian Stock Exchange (NSE) in conjunction with the Fund Managers Association of Nigeria (FMAN), the Central Securities Clearing Systems (CSCS) and the Association of Stockholding, Nigeria (ASHON) launched the Mutual Fund trading platform, with the aim to improve and enhance access of listed mutual funds to investors and to enhance visibility for the listed funds and promote financial inclusion while stimulating retail investor participation in our market.The chief operating officer of InvestData Consulting Limited, Ambrose Omordion said that over the years, there has been a significant increase in the number of mutual funds as investors' interest increases, saying that mutual funds have become a vehicle used by both advisors and institutions to access investible funds and diversify portfolios.He noted that the money market fund continues to evolve and grow as seen under the period review.Omordion said that there is a need for the government and financial/investment houses to sensitise the public of the need of alternative investments such as mutual funds and the benefits, as this will create awareness in the market and go a long way in creating strong relationship between the investors and investees.A stockbroker and the CEO, Sofunix Investment and Communications, Mr Sola Oni stated that mutual fund is a collective investment that enables small savers to benefit from investment in blue chips across a broad spectrum of industries.He added that although it can be abused if not properly regulated, it is a strategy for diversification by which an investor can hold shares in specialised sectors that ordinarily he cannot afford to buy as individual stocks.Oni said that mutual trust is a form of risk management and managed by professional money managers and this enhances operational efficiency, which is easy to track.Group managing director of Cordros Capital said that "We need a collective effort from both the regulators and the operators. The Securities and Exchange Commission has done a lot in this regard as the industry is a lot more regulated and the investing publics are better informed about the opportunities that mutual funds offer."Agbeyangi however, noted, "We think both the operators and regulators can still do a lot more with regards to financial literacy and adequate wealth management strategies."Operators also need to come out with more investment solutions that cater to the various needs of investors. Government can also look at providing incentives and enabling environment that encourage savings and investments."He added that the mutual funds trading platform launched in 2019, marks the beginning of a new era in Nigeria's mutual fund industry as mutual funds can now be traded on the floor of the stock exchange, saying that investors can now buy and sell units of funds on the floor of the Nigerian Stock Exchange (NSE).The managing director of HighCap Securities Limited, Mr David Adonri said that mutual fund investment has been widely embraced as a good investment platform in the developed economies, and serves as a vehicle for the mobilisation of capital for economic development.He noted the investors are now embracing mutual fund instrument to diversify their investment risks especially in the equities market, explain that since investments in mutual funds are like investment in a basket of securities.
Edo Sit-At-Home Order, Benin City In Pictures
Benin City was shutdown today as it's residents observed the sit at home order as directed by the state government. Most shops and stores were under lock and key except for a few others selling food, drugs, water as well as other life dependent commodities.
A visit to the ever busy Kings square (Ring Road), New Benin, Forestry road, Akpakpava, Sapele road, Mission road, Sokponba road, Lagos street and Airport road e t.c showed that business activities were crippled as residents stayed back home.
It could be recalled that the Edo State Government (EDSG) yesterday declared that a sit at home order will take effect from today 27th March 2020 in a bit to curb the spread of COVID-19 pandemic in the state.
More pictures below
As Virus Spreads, Maryland, Massachusetts Order Nonessential Businesses To Close
On Monday, Maryland Gov. Larry Hogan ordered all nonessential businesses closed by 5 p.m. ET to help stop the spread of the coronavirus. Massachusetts issued a similar order to go into effect at noon ET on Tuesday.Steve Ruark/AP
Governors in Maryland and Massachusetts issued executive orders on Monday ordering nonessential businesses in their states closed as the race to halt the spread of the deadly coronavirus intensifies.
Meanwhile Florida Gov. Ron DeSantis announced a drive-through testing facility will open in The Villages, a sprawling mega-retirement community in the central part of the state.
In Maryland, Gov. Larry Hogan issued a new executive order effective at 5 p.m. ET., which he referred to as "immediate, additional mitigation and social distancing actions."
The executive order closes all nonessential businesses, organizations, establishments and facilities in the state.
"Let me be clear, we are not issuing or ordering a shelter in place directive or forcing people to stay home," Hogan said. He reiterated that Marylanders should follow previous state-wide directives, including the new state law prohibiting crowds of more than 10 people.
Hogan's announcement comes as the state has 288 confirmed cases of COVID-19 in all but three of Maryland's 24 counties. The governor also announced its latest coronavirus-related death, a woman in her 40s.
Gov. Charlie Baker of Massachusetts issued a similar directive ordering all non-essential businesses to "cease in person operation."

Today I issued an emergency order requiring all businesses and organizations that do not provide #COVID19 essential services to close their physical workplaces and facilities to workers, customers and the public.

FULL DETAILS: https://bit.ly/2QziBnN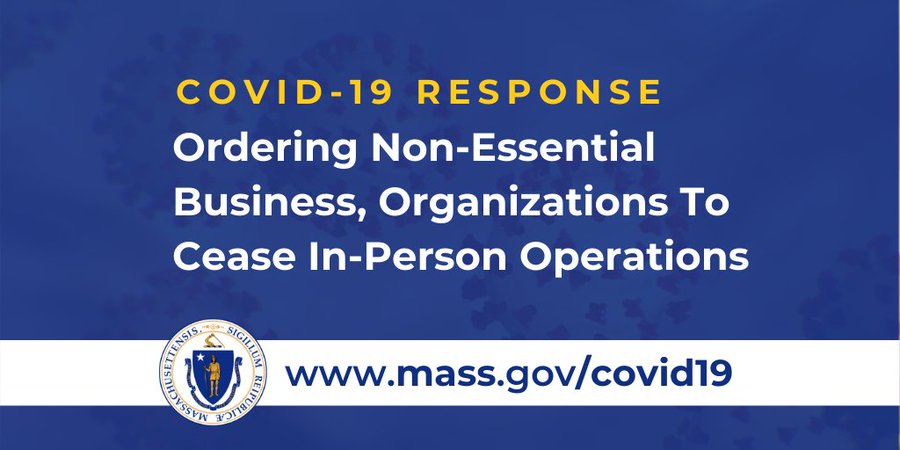 1,5033:27 PM – Mar 23, 2020Twitter Ads info and privacy1,558 people are talking about this
The order is set to go into effect Tuesday at noon and go through Tues., April 7 at noon. Businesses that provide essential services, such as restaurants and pharmacies, are excluded. Liquor stores and medical marijuana shops can also remain open.
Baker's order advises residents to stay at home and to forgo unnecessary travel during the two-week period. The Baker administration adds it, "does not believe Massachusetts residents can be confined to their homes and does not support home confinement for public health reasons."
DeSantis, speaking from The Villages in Sumter County, Fla., announced a testing site that is "tailormade" for this 55-years-old and older community because both cars and golf carts will be allowed through.
The operation, conducted in partnership with the University of Florida, hopes to test up to 400 people a day and plans to reach 2,000 people by the end of the week. The governor added that people who didn't reside in The Villages could be tested as well.
According to NPR's Florida Correspondent Greg Allen, retirees there are practicing social distancing:

2000 people expected to be tested this week. People can drive through in cars or in golf carts, the preferred mode for many retirees in the Villages. DeSantis note golf courses there are still open, but says retirees are practicing social distancing–each in their own golf cart. https://twitter.com/gallennpr/status/1242112238208630786 …Greg Allen✔@gallennprGovernor DeSantis announces opening of a drive-through testing facility in the central Florida retirement community, The Villages. It will be operated by UF Shands doctors and will test asymptomatic as well as symptomatic patients as part of a research project.14:36 PM – Mar 23, 2020Twitter Ads info and privacySee Greg Allen's other Tweets
GET INVOLVED