Isabel dos Santos: Africa's richest woman 'ripped off Angola'
Leaked documents reveal how Africa's richest woman made her fortune through exploiting her own country, and corruption.
Isabel dos Santos got access to lucrative deals involving land, oil, diamonds and telecoms when her father was president of Angola, a southern African country rich in natural resources.
The documents show how she and her husband were allowed to buy valuable state assets in a series of suspicious deals.
Ms Dos Santos says the allegations against her are entirely false and that there is a politically motivated witch-hunt by the Angolan government.
The former president's daughter has made the UK her home and owns expensive properties in central London.
She is already under criminal investigation by the authorities in Angola for corruption and her assets in the country have been frozen.
Now BBC Panorama has been given access to more than 700,000 leaked documents about the billionaire's business empire.
Most were obtained by the Platform to Protect Whistle-blowers in Africa and shared with the International Consortium of Investigative Journalists (ICIJ).
They've been investigated by 37 media organisations including the Guardian and Portugal's Expresso newspaper.
Andrew Feinstein, the head of Corruption Watch, says the documents show how Ms Dos Santos exploited her country at the expense of ordinary Angolans.
"Every time she appears on the cover of some glossy magazine somewhere in the world, every time that she hosts one of her glamorous parties in the south of France, she is doing so by trampling on the aspirations of the citizens of Angola."
The ICIJ have called the documents the Luanda Leaks.
The oil connection
One of the most suspicious deals was run from London through a UK subsidiary of the Angolan state oil company Sonangol.
Ms Dos Santos had been put in charge of the struggling Sonangol in 2016, thanks to a presidential decree from her father Jose Eduardo dos Santos, who kept a tight grip on his country for the 38 years he was in power.
But when he retired as president in September 2017 her position was soon under threat, even though his hand-picked successor came from the same party. Ms Dos Santos was sacked two months later.
Many Angolans have been surprised at the way that President João Lourenço has gone after the business interests of his predecessor's family.
The leaked documents show that as she left Sonangol, Ms Dos Santos approved $58m of suspicious payments to a consultancy company in Dubai called Matter Business Solutions.
She says she has no financial interest in Matter, but the leaked documents reveal it was run by her business manager and owned by a friend.
Panorama understands that Matter sent more than 50 invoices to Sonangol in London on the day that she was fired.
Ms Dos Santos appears to have approved payments to her friend's company after she was sacked.
Although some consultancy work had been carried out by Matter, there's very little detail on the invoices to justify such large bills.
One asks for €472,196 for unspecified expenses – another asks for $928,517 for unspecified legal services.
Two of the invoices – each for €676,339.97 – are for exactly the same work on the same date and Ms Dos Santos signed them both off anyway.
Lawyers for Matter Business Solutions say it was brought in to help restructure the oil industry in Angola, and that the invoices were for work that had already been carried out by other consultancy companies it had hired.
"Regarding the invoices related with expenses, it is common for consultancy companies to add expenses to invoices as a general item. This is often due to those expenses involving large amounts of paperwork… Matter can produce documentary evidence to confirm all expenses incurred."
Ms Dos Santos's lawyers said her actions with regard to the Matter payments were entirely lawful and that she had not authorised payments after she had been dismissed from Sonangol.
They said: "All invoices paid were in relation to services contracted and agreed between the two parties, under a contract that was approved with the full knowledge and approval of the Sonangol Board of Directors."
The ICIJ and Panorama have also uncovered new details about the business deals that made Ms Dos Santos rich.
Much of her fortune is based on her ownership of a stake in the Portuguese energy company Galp, which one of her companies bought from Sonangol in 2006.
The documents show it only had to pay 15% of the price upfront and that the remaining €63m ($70m) was turned into a low-interest loan from Sonangol.
Under the generous terms of the loan, her debt to the Angolan people didn't have to be repaid for 11 years.
Her stake in Galp is now worth more than €750m.
Ms Dos Santos's company did offer to repay the Sonangol loan in 2017.
The repayment offer should have been rejected because it didn't include almost €9m of interest owing.
But Ms Dos Santos was in charge of Sonangol at the time and she accepted the money as full payment of her own debt.
She was fired six days later and the payment was returned by the new Sonangol management.
Ms Dos Santos says she initiated the purchase of the stake in Galp, and that Sonangol made money from the deal as well.
"There's absolutely no wrongdoing in any of those transactions. This investment is the investment that in history has generated the most benefit for the national oil company and all the contracts that were drafted are perfectly legal contracts, there are no wrongdoings."
Her lawyers say the repayment offer in 2017 covered what Sonangol had indicated was owed.
The diamond connection
It's a similar story in the diamond industry.
Ms Dos Santos's husband, Sindika Dokolo, signed a one-sided agreement in 2012 with Angolan state diamond company Sodiam.
They were supposed to be 50-50 partners in a deal to buy a stake in the Swiss luxury jeweller De Grisogono.
But it was funded by the state company. The documents show that 18 months after the deal, Sodiam had put $79m into the partnership, while Mr Dokolo had only invested $4m. Sodiam also awarded him a €5m success fee for brokering the deal, so he didn't have to use any of his own money.
The diamond deal gets even worse for the Angolan people.
The documents reveal how Sodiam borrowed all the cash from a private bank in which Ms Dos Santos is the biggest shareholder.
Sodiam has to pay 9% interest and the loan was guaranteed by a presidential decree from her father, so Ms Dos Santos's bank cannot lose out.
Bravo da Rosa, the new chief executive of Sodiam, told Panorama that the Angolan people hadn't got a single dollar back from the deal: "In the end, when we have finished paying back this loan, Sodiam will have lost more than $200m."
The former president also gave Ms Dos Santos's husband the right to buy some of Angola's raw diamonds.
Who is Isabel dos Santos?
Eldest daughter of ex-President Jose Eduardo dos Santos
Married to Congolese art collector and businessman Sindika Dokolo
Educated in UK, where she currently lives
Reported to be Africa's richest woman, with a fortune of some $2bn
Has stakes in oil and mobile phone companies and banks, mostly in Angola and Portugal
The Angolan government says the diamonds were sold at a knockdown price and sources have told Panorama that almost $1bn may have been lost.
Ms Dos Santos told the BBC she couldn't comment because she was not a shareholder of De Grisogono.
But the leaked documents show that she is described as a shareholder of De Grisogono by her own financial advisers.
Mr Dokolo did put in some money later. His lawyers say he invested $115m and that the takeover of De Grisogono was his idea. They say his company paid above the market rate for the raw diamonds.
The land connection
The leaked documents also reveal how Ms Dos Santos bought land from the state in September 2017. Once again she only had to pay a small up-front fee.
Her company bought a square kilometre of prime beachfront land in the capital Luanda with the help of presidential decrees signed by her father.
The contract says the land was worth $96m, but the documents show her company paid only 5% of that after agreeing to invest the rest in the development.
Panorama traced some of the ordinary Angolans who were evicted to make way for the Futungo development.
They've been moved from the Luandan seafront to an isolated housing development 30 miles (50km) from the capital.
Teresa Vissapa lost her business to Ms Dos Santos' development and is now struggling to bring up her seven children.
She said: "I only ask God to make her think a little more about our situation. Maybe she doesn't even know it, but we are suffering."
Ms Dos Santos declined to comment on the Futungo development.
But it was not the only land deal involving Ms Dos Santos that displaced the local population.
About 500 families were evicted from another stretch of the Luandan seafront after Isabel dos Santos got involved in another major redevelopment project.
The families are now living in desperate conditions next to an open sewer. Some of their shacks are flooded with sewage whenever the tide rises.
Ms Dos Santos says there weren't any evictions linked to her project and that her companies were never paid because the development was cancelled.
The telecoms connection
The billionaire has also made big profits from the telecoms industry in Angola.
She acquired a 25% stake in the country's biggest mobile phone provider, Unitel. It was granted a telecoms licence by her father in 1999 and she bought her stake the following year from a high ranking government official.
Unitel has already paid her $1bn in dividends and her stake is worth another $1bn. But that's not the only way she got cash from the private company.
She arranged for Unitel to lend €350m to a new company she set up, called Unitel International Holdings.
The company name was misleading because it wasn't connected to Unitel and Ms Dos Santos was the owner.
The documents show Ms Dos Santos signed off on the loans as both lender and borrower, which is a blatant conflict of interest.
Ms Dos Santos denied that the loans were corrupt. She said: "This loan had both directors' approval and shareholders' approval, and it's a loan that will generate, and has generated, benefit for Unitel."
Her lawyers say the loans protected Unitel from currency fluctuations.
Most of the companies involved in the dodgy deals were overseen by accountants working for the financial services company, Price Waterhouse Coopers (PWC). It's made millions providing auditing, consultancy and tax advice to her companies.
But PWC has terminated its relationship with the billionaire and her family, after Panorama questioned the way the company had assisted Ms Dos Santos in the deals that had made her rich.
PWC says it is holding an inquiry into the "very serious and concerning allegations".
Tom Keatinge, director of the Centre for Financial Crime and Security Studies, told Panorama that PWC had given legitimacy to Ms Dos Santos and her companies.
"PWC, if not facilitating the corruption, are providing a veneer of respectability that makes what's happening acceptable or more acceptable than it might otherwise be.
"So if I was at PWC I'd be conducting a pretty thorough audit of what decisions were made, and in hindsight actually: 'Did we make the wrong decision to accept this business and should we have reported what we had been presented with?'"
PWC says it strives to maintain the highest professional standards and has set expectations for consistent ethical behaviour across its global network.
"In response to the very serious and concerning allegations that have been raised, we immediately initiated an investigation and are working to thoroughly evaluate the facts and conclude our inquiry.
"We will not hesitate to take appropriate actions to ensure that we always stand for the very highest standards of behaviour, wherever we operate in the world."
Nigerian Mutual Funds Hit N1.26 Trillion In 5 Months
Total net asset of collective investment schemes and funds in Nigeria has risen to N1.257 trillion in the first five months of the year.There is no doubt that COVID-19 has affected various parts of the Nigerian economy and indeed, the world economy. One industry in Nigeria that has remained resilient in spite of it all, is the mutual fund industry.Data released by the Securities and Exchange Commission (SEC) as at May 29, 2019 showed that net asset value of mutual funds rose by N251 billion or 24.95 per cent from N1.006 trillion on December 29, 2019 to N1.257 trillion to close the first five months of the year, on May 29, 2019.The analysis revealed that in spite of the decline of 5.864 per cent witnessed in the Nigerian equities market during the period under review, the Nigerian mutual fund managers witnessed a growth of 24.95 per cent.Looking at how the funds flow into the sub-sector showed that Money Market Funds, Bond Market and Fixed Income Funds were the most active.Money Market Funds up by N93.613 billion, Bond Funds rose by N81.156 billion, Fixed Income Funds appreciated by N76.979 billion, Equities Based Funds up by N331 million, while Ethical Funds increased by N121 million in five months.On the other side, Real Estate Funds and Mixed Funds depreciated by N1.087 billion, and N121 million, respectively.Mutual fund is a pool of funds brought together by a professional fund manager from several investors to invest in selected underlying securities. The underlying securities can be one or a combination of the following: stocks, fixed income securities, real estate and commodities. A mutual fund portfolio is structured and maintained to match different investment objectives. The type of mutual fund an individual invests in depends on their financial objectives and appetite for risk.Meanwhile, in 2019, the Nigerian Stock Exchange (NSE) in conjunction with the Fund Managers Association of Nigeria (FMAN), the Central Securities Clearing Systems (CSCS) and the Association of Stockholding, Nigeria (ASHON) launched the Mutual Fund trading platform, with the aim to improve and enhance access of listed mutual funds to investors and to enhance visibility for the listed funds and promote financial inclusion while stimulating retail investor participation in our market.The chief operating officer of InvestData Consulting Limited, Ambrose Omordion said that over the years, there has been a significant increase in the number of mutual funds as investors' interest increases, saying that mutual funds have become a vehicle used by both advisors and institutions to access investible funds and diversify portfolios.He noted that the money market fund continues to evolve and grow as seen under the period review.Omordion said that there is a need for the government and financial/investment houses to sensitise the public of the need of alternative investments such as mutual funds and the benefits, as this will create awareness in the market and go a long way in creating strong relationship between the investors and investees.A stockbroker and the CEO, Sofunix Investment and Communications, Mr Sola Oni stated that mutual fund is a collective investment that enables small savers to benefit from investment in blue chips across a broad spectrum of industries.He added that although it can be abused if not properly regulated, it is a strategy for diversification by which an investor can hold shares in specialised sectors that ordinarily he cannot afford to buy as individual stocks.Oni said that mutual trust is a form of risk management and managed by professional money managers and this enhances operational efficiency, which is easy to track.Group managing director of Cordros Capital said that "We need a collective effort from both the regulators and the operators. The Securities and Exchange Commission has done a lot in this regard as the industry is a lot more regulated and the investing publics are better informed about the opportunities that mutual funds offer."Agbeyangi however, noted, "We think both the operators and regulators can still do a lot more with regards to financial literacy and adequate wealth management strategies."Operators also need to come out with more investment solutions that cater to the various needs of investors. Government can also look at providing incentives and enabling environment that encourage savings and investments."He added that the mutual funds trading platform launched in 2019, marks the beginning of a new era in Nigeria's mutual fund industry as mutual funds can now be traded on the floor of the stock exchange, saying that investors can now buy and sell units of funds on the floor of the Nigerian Stock Exchange (NSE).The managing director of HighCap Securities Limited, Mr David Adonri said that mutual fund investment has been widely embraced as a good investment platform in the developed economies, and serves as a vehicle for the mobilisation of capital for economic development.He noted the investors are now embracing mutual fund instrument to diversify their investment risks especially in the equities market, explain that since investments in mutual funds are like investment in a basket of securities.
Edo Sit-At-Home Order, Benin City In Pictures
Benin City was shutdown today as it's residents observed the sit at home order as directed by the state government. Most shops and stores were under lock and key except for a few others selling food, drugs, water as well as other life dependent commodities.
A visit to the ever busy Kings square (Ring Road), New Benin, Forestry road, Akpakpava, Sapele road, Mission road, Sokponba road, Lagos street and Airport road e t.c showed that business activities were crippled as residents stayed back home.
It could be recalled that the Edo State Government (EDSG) yesterday declared that a sit at home order will take effect from today 27th March 2020 in a bit to curb the spread of COVID-19 pandemic in the state.
More pictures below
As Virus Spreads, Maryland, Massachusetts Order Nonessential Businesses To Close
On Monday, Maryland Gov. Larry Hogan ordered all nonessential businesses closed by 5 p.m. ET to help stop the spread of the coronavirus. Massachusetts issued a similar order to go into effect at noon ET on Tuesday.Steve Ruark/AP
Governors in Maryland and Massachusetts issued executive orders on Monday ordering nonessential businesses in their states closed as the race to halt the spread of the deadly coronavirus intensifies.
Meanwhile Florida Gov. Ron DeSantis announced a drive-through testing facility will open in The Villages, a sprawling mega-retirement community in the central part of the state.
In Maryland, Gov. Larry Hogan issued a new executive order effective at 5 p.m. ET., which he referred to as "immediate, additional mitigation and social distancing actions."
The executive order closes all nonessential businesses, organizations, establishments and facilities in the state.
"Let me be clear, we are not issuing or ordering a shelter in place directive or forcing people to stay home," Hogan said. He reiterated that Marylanders should follow previous state-wide directives, including the new state law prohibiting crowds of more than 10 people.
Hogan's announcement comes as the state has 288 confirmed cases of COVID-19 in all but three of Maryland's 24 counties. The governor also announced its latest coronavirus-related death, a woman in her 40s.
Gov. Charlie Baker of Massachusetts issued a similar directive ordering all non-essential businesses to "cease in person operation."

Today I issued an emergency order requiring all businesses and organizations that do not provide #COVID19 essential services to close their physical workplaces and facilities to workers, customers and the public.

FULL DETAILS: https://bit.ly/2QziBnN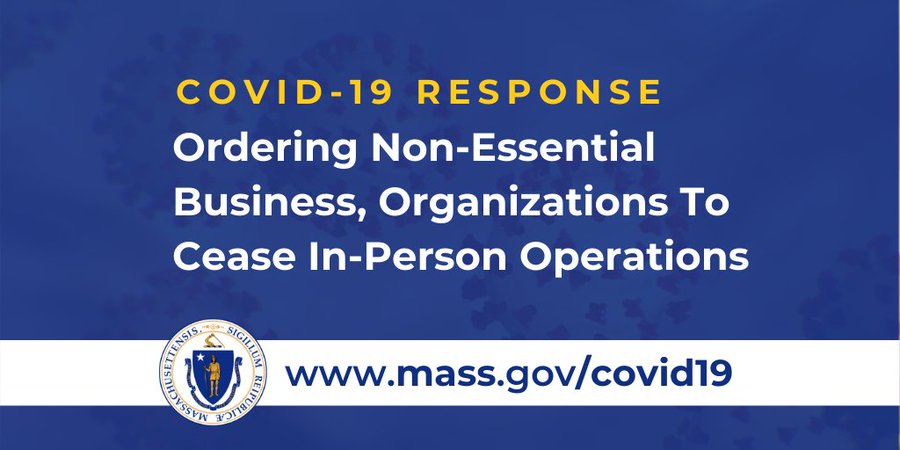 1,5033:27 PM – Mar 23, 2020Twitter Ads info and privacy1,558 people are talking about this
The order is set to go into effect Tuesday at noon and go through Tues., April 7 at noon. Businesses that provide essential services, such as restaurants and pharmacies, are excluded. Liquor stores and medical marijuana shops can also remain open.
Baker's order advises residents to stay at home and to forgo unnecessary travel during the two-week period. The Baker administration adds it, "does not believe Massachusetts residents can be confined to their homes and does not support home confinement for public health reasons."
DeSantis, speaking from The Villages in Sumter County, Fla., announced a testing site that is "tailormade" for this 55-years-old and older community because both cars and golf carts will be allowed through.
The operation, conducted in partnership with the University of Florida, hopes to test up to 400 people a day and plans to reach 2,000 people by the end of the week. The governor added that people who didn't reside in The Villages could be tested as well.
According to NPR's Florida Correspondent Greg Allen, retirees there are practicing social distancing:

2000 people expected to be tested this week. People can drive through in cars or in golf carts, the preferred mode for many retirees in the Villages. DeSantis note golf courses there are still open, but says retirees are practicing social distancing–each in their own golf cart. https://twitter.com/gallennpr/status/1242112238208630786 …Greg Allen✔@gallennprGovernor DeSantis announces opening of a drive-through testing facility in the central Florida retirement community, The Villages. It will be operated by UF Shands doctors and will test asymptomatic as well as symptomatic patients as part of a research project.14:36 PM – Mar 23, 2020Twitter Ads info and privacySee Greg Allen's other Tweets
GET INVOLVED